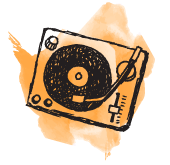 Corporate Bodies
General Assembly
The supreme body of the Organization is the General Assembly that convenes in a regular annual basis, and votes for the members of the Board and the Supervisory Board for a 3-year service. In the General Assembly participate, with voting rights, the members of the Organization, while the rightholders have the right to attend and express their views and concerns, yet without a right to vote for or be elected as members of the Board.
During the voting that may take place at the General Assembly, according to art. 35 (7) of the Statute, "each member has as many votes as there are ten times the units of percent participation in the sum of the amounts with which the members invoiced the Organization in the last two (2) consecutive years preceding that in which the General Assembly takes place, pursuant to the provision in Art. 9 (5c) L. 4481/2017 (=amounts collected or due). If the membership period is shorter than two years, its votes shall be equal to 10 times the percentage of its membership in the sum of the amounts invoiced by the organization to its members in the year preceding that which takes place at the General Assembly. In no case shall the number of votes of the member be less than ten (10)".
Board
The 7-members Board consists of a Chairman/Chairwoman, a Vice Chairman/Vice Chairwoman, a Secretary General, a Treasurer and three Members. Usually convenes on a monthly basis and is responsible for the decisions regarding the operation of the Organization.
The current Board consists of the following members:
Margarita Matsa-Chairwoman
Spyridon Stamoulis-Vice Chairman
Anna-Maria Antippas-Secretary General
Irini Souganidou-Treasurer
Andreas Giannikos-Member
Easy Coutiel-Member
Antonis Markogiannis-Member
Duties of General Manager, only for the internal affairs of the Organization, exerts the Management Consultant Ms Eleni Foscolou.
Supervisory Board
The 3-members Supervisory Board of the Organization is elected by the General Assembly for a 3-year service, with the duty to supervise the operation of the Organization and the Board, informing the General Assembly.
The current Supervisory Board consists of the following members:
Piladakis Stavros-Chairman
Mariatos Gerasimos-Vice Chairman
Berdousi Demitra-Secretary